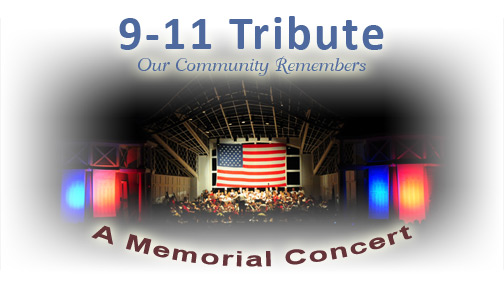 Wednesday September 11th, 2013
Our 12th annual concert will take place at 7 p.m. at the Lake Harriet Band Shell with Americana Preconcert activities starting at 5 PM.
Please join with us in an evening of music, flag waving and reflection as we honor the memory of those who lost their lives that day. We especially want to invite parents to bring their children. They will receive an American flag to wave as they march in the parade though the aisles.
The concert will be signed for the hearing impaired. There will be reserved seating in the front for the deaf, hearing impaired and disabled.
For more than 12 years, the Minnesota 9-11 Tribute has held fast to the concept originally conceived for the first concert. During those years, an estimated 3,000 to 4,000 families, seniors, youth, disabled persons, veterans, armed forces personnel and care givers have attended the evening event to remember the tragedy of September 11, 2001 and to praise and celebrate life. During the 10th anniversary, as many as 5,000 people filled available seats, the surrounding hillside and sat on the grounds back to the tree line. Our community does remember. The Minnesota 9-11 Tribute is an important venue for thousands of Minnesotans to express their sorrow, their love and their thanksgiving for the freedoms we share.
We are the only tribute of this sort in the entire nation.
| | |
| --- | --- |
| | "This activity is made possible by the voters of Minnesota through grants from the Minnesota State Arts Board and the Metropolitan Regional Arts Council, thanks to a legislative appropriation from the arts and cultural heritage fund." |
If you have questions or comments about the 9-11 Tribute or wish to volunteer, please e-mail us at:
Sept11tribute@gmail.com

---